Carlisle Business Centre proves a hit with users
21st October 2010
The Carlisle Business Centre is proving a big hit with users and visitors. In a survey, more than 90 percent of those using the centre said it provided good value for money and that they would recommend it as a venue. The centre is inviting people to visit and find out about the facilities. For further details, contact the centre on 223203.
Toys 'R' Us to open on Manningham Lane
31st August 2010
Toys R Us is aiming to launch the new store at Manningham Lane Retail Park, at the junction of Hamm Strasse and Manningham Lane, this autumn. Workers are in the process of converting two units into one large shop for the chain in a move that should provide a timely boost for the retail park. The opening is expected to create jobs in the area and the company will start recruiting in the next couple of months. Local businesses also hope the new store will bring more shoppers and footfall to the area.
Step up to catch rare view of park
25th August 2010
Visitors to Cartwright Hall will have the chance to admire views of Lister Park from the balcony next month. The balcony will be open for free on Friday, September 10. For more information, call 01274 431212, email cartwright.hall@bradford.gov.uk or visit www.bradfordmuseums.org
Lister Park awarded Green Flag award
28th July 2010
Lister Park is one of the district's parks to be recognised as among the best in the country. Together with Peel Park, Harold Park, St Ives Estate and Central Park, Haworth, it has been awarded the Green Flag Award - a scheme run by environmental charities Keep Britain Tidy, BTCV and GreenSpace.
New book highlights Manningham's rich architectural heritage
25th June 2010
English Heritage have launched their latest project, a book about Manningham's buildings – Manningham: Character and Diversity in a Bradford Suburb – and a DVD featuring Manningham people. The event, held on Thursday 24th June was attended by many local people and was an opportunity to recognise Manningham's rich architectural heritage.

The book tells the tale of Manningham's prosperous past. It was tree-lined and cobbled; elegant black gas lamps flanked the road. Towards the Lister Park end were the more elegant villas, squares and crescents where the better-off lived. Clifton Villas features in Howard Spring's novel about the rise of the Labour Party, Fame is the Spur. For six years Lord Kagan, textile manufacturer and friend of Prime Minister Harold Wilson, lived at number 4. The book's authors, Simon Taylor and Kathryn Gibson, say: "Manningham's varying character can be traced in part to the actions of a few wealthy individuals and in part to its collective – often mutual – effort of many lesser citizens. "At its height, Manningham was regarded as Bradford's premier residential suburb. It was the 'best end of town' and a byword for status, style and exclusivity…" To purchase the book visit English Heritage's website: http://www.english-heritage.org.uk/publications/manningham/
Cartwright Hall set to re open
2nd June 2010
Cartwright Hall is to re-open to the public this weekend after £200,000 of repairs and a ten-month closure. The Grade-II listed hall in Lister Park was closed in August after part of a ceiling collapsed. Subsequent checks of the gallery and museum uncovered more essential work was needed, initially estimated at £100,000. Work on the building and plaster has taken place, as well as the redecoration of the ground floor.

The hall will open to the public on Saturday. Councillor the Reverend Paul Flowers, Bradford Council's executive member for culture, tourism and sport, said: "It's wonderful to see such a marvellous building restored, refreshed and re-opened to the public. "Visitors will be able to see how the gallery has retained its distinctive period atmosphere and rich displays from the permanent collections."

The Sculpture Court will display some of Bradford's most treasured marble busts and bronze sculptures as would have been seen in the early 1900s, plus South Asian textiles from the social history and international arts collections.
Furth boost for Lister Mill
12th April 2010
Bowling College is set to open a centre for English Speakers of Other Languages at Lister Mills. Developer, Urban Splash, has agreed a deal that will see the college take 3,865sq ft of space within the site's Velvet Mill. The latest deal is a further boost in the transformation of the mills following the completion of hundreds of new apartments at Silk Mill and Velvet Mills alongside Manningham Mills Community Association. The redevelopment of both former textile mills is a key part of the Manningham Masterplan. Peter Leech, Principal of Bowling College, said "We're delighted to have extended our locations and plan for this centre to be an integral campus with future plans to add computer classes, childcare and health and social care training."

In addition, Urban Splash has announced the roll-out of the Government's Homebuy Direct scheme at Velvet Mill, which is designed to help buyers into home ownership. The initiative, from the Homes and Communities Agency (HCA), will now be available to people looking to buy an apartment. If customers meet the eligibility criteria, they can take out a minimum 70 per cent mortgage. The other 30 per cent would be provided as an equity loan from Urban Splash and the HCA. For more information on the HomeBuy Direct Scheme and eligibility criteria, visit: www. www.homesandcommunities.co.uk/home_buy
MMSA launches new STEPS programme


10th April 2010
Manningham Mills Sports Association (MMSA) is currently recruiting for their April STEPS Program, scheduled to start on 19th April for local people who are interested in health and social care work.This is a 12-week program designed to help local people become more employable and gain the confidence and skills to make positive life changes, which could lead into work, volunteering or further training. Participants are given an opportunity to gain accreditation and skills in a range of disciplines from confidence building, 1st Aid, disability awareness, employment skills including job search and CV writing, ICT, numeracy, literacy and much more. All sessions are designed to be fun and interactive. For more information contact Byron Francis at MMSA on 01274 491919. Supporting people into employment is a key objective of the Masterplan
Manningham Mills Sports Association recruiting for STEPS programme
1st March 2010
Manningham Mills Sports Association are currently recruiting for their April Support, Training, Encouragement of Practical Skills Application (STEPS) programme. STEPS is a 12-week programme that offers participants an opportunity to gain accredittion and skills in a range of disciplines such as confidence building, first aid, disability awareness, employment skills, ICT, numeracy, literacy and much more. All sessions are designed to be fun and interactive and proven to be a real success. The course is designed to appeal to a wide range of local people to help in employment and gain confidence and skills required to make positive life changes, changes which could lead into work, volunteering or further training.
Courses start on the 19th April and free childcare is available. For more information contact Byron Francis on 01274 491919.
Dubrovnik beats bigger rivals to award
2nd February 2010
The Dubrovnik, based on Oak Avenue has won the Robert Ragge Award for Innovation. The hotel introduced a new pricing structure and marketing strategy which boosted both corporate and leisure business at the hotel last year in the face of the recession. A hotel in the multi-national Marriott chain was runner up to The Dubrovnik, which also took third place in the family-friendly category. Ned Basic, whose family own and manage the hotel said: "We love to challenge the big boys in our industry. These awards are among the most coveted by UK hoteliers."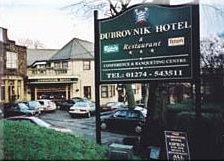 'Cautious optimism' for Manningham firms
13th Janury 2010
Many of the district's firms, including those based in Manningham are seeing a mood of 'cautious optimism' return and are more confident than at this time last year, according to Jenny Pupius, Chief Executive of ABL. Following a tough start to 2009, by April, ABL was recovering well. This is shown by the redevelopment of ABL's basement which has seen three new tenants ready to move in. In an interview with the Telegraph and Argus, Jenny said "we are getting a steady stream of enquiries from prospective tenants for space at Carlisle Business Centre, a clear signing of business confidence."
Manningham-based firm builds foundation for expansion
6th Janury 2010
One of the few remaining Bradford-based wool merchants, Standard Wool UK, based in Clifton St has secured its future and provided a base for expansion through a three-year £13m funding deal. Chief Executive, Paul Hughes, who in 2005 led a management buyout of Standard Wool from its previous owners, Standard Commercial Corporation said the funding would enable the firm to continue expanding from its Manningham base.He said: "This will enable us to go forward with renewed confidence and continue to provide quality assured wools to our clients world wide." The firm employees about 70 people in the UK and is the largest buyer of UK and Chilean wool.
It's dance time at Mind the Gap!
4th Janury 2010
Mind the Gap will be running dance sessions for adults with learning difficulties this month. It will run the Friday Dance-Theatre workshops at its Lister Mil ls base from January 22nd. The first half term will include movement and drama techniques, to create a hip hop piece. It will be shown at Mind the Gap's first Bradford's Got Talent event on Friday February 19th. The sessions are free for particpants. For further information, visit Mind The Gap's website at mind-the-gap.org.uk
First cohort pass through STEPS programme
18th Dec 2009
This project, run by ABL has completed its first programme and awarded all participants with certificate of achievement. The aim of this project is to support people back into employment who have been removed or excluded from the labour market. The objective is to work with communities in Bradford and the District to help support people into employment, training, volunteering or further education. The sessions are designed to fit best with what people want and how the consortium can help achieve these goals through confidence building, motivation, social interaction and general information sharing and signposting to other provisions.The programme will run again in January 2010. If you are interested in taking part in this course, please visit ABL's community information page to find out more.